If you remember a previous post, I pointed out that the Success Academy Charter Schools was advertising for students in some very interesting places, which included my neighborhood of Park Slope, as well as a website where I publish educational materials. How happy I was that the deadline passed, and  no longer have to look a these ads begging me to fill out a form so that my child can enter their "lottery." (Yeah, like I would buy a ticket for that contest, even if it was free….)
Well, now that Eva has gotten all her eager young students ready to grace her halls this coming fall (including the building where she is going to displace a program for handicapped students who will have to travel miles away), it looks like she'll be needing teachers to educate those eager young minds. So what do I see when I log into my TeachersPayTeachers account? You guessed it:
and this!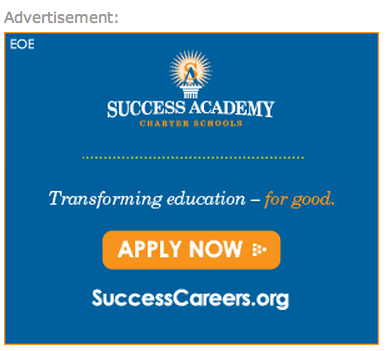 It gets even better when you arrive at the web site: prospective applicants are told the following:
At Success Academy, we make history every single day. Our schools rank in the top 1% in math and top 7% in reading among all New York schools. 100% of all scholars passed the 2013 science exam with 99% earning the highest possible rating. We provide an exploration driven curriculum for grades K-8, focused on the whole child. Chess, art, and other specialized subjects bring excitement to the school day and foster a lifelong love of learning. Our communities are calling for more, and we are meeting this urgent demand with rapid expansion.
If that doesn't qualify as hyperbole, I don't know what does, especially because much of what is in this paragraph is not actually "true." But then again, everyone loves working with a winner, so why not invite all those eager, underemployed, impressionable and disposable youths to do this:
Are you ready to join this movement and make an indelible mark on education reform across New York City?
That is, if the "movement" is funded by such right-wing "philanthropies" like the Walton Family Foundation or pseudo-educational foundations intent on compromising public education like Bill & Melinda Gates, not to mention the billionaire hedge-fund managers who crashed the economy and threw tens of thousands of people out of work. Yes, this is the type of 'movement' I want to join!
I'm truly tempted to "apply now," if only to see whether I could actually game something beyond a cursory "thank you for your application; we'll contact you if you have any positions open in your area."
Of course, being a 54 year old man finishing his 30th year in education in a "high needs" area (math and science), I'm a most unlikely candidate for any position at Success Academy, where young, inexperienced teachers probably fit their needs a bit better. I probably couldn't put up with the demands of the work day (at 54 years old, teaching for 8 hours with just a lunch break is most likely beyond my stamina), and being bossed around by an "education manager" who has 2-3 years in "people management" is probably going to grate on my nerves (especially when I'll have to spend most  of my time improving test scores and making sure kids look 'straight ahead' at all times.)
On second thought, I'll keep my day job.